Contact
Venue
Festschrift
To appear in JSTAT as focus issue
Invited speakers and participants of the conference are welcome to contribute to the Festschrift.
If you would like to contribute a paper, please go the JSTAT website, register and follow the instructions given on that site. When you select a topical keyword, include in addition the keyword "Special Issue" in category 13. There are no length restrictions to manuscripts.
Deadline for submission is 15 November 2007.
Information for visitors
Public transport to the Institute:

From Cologne-Bonn airport:
From the train station accessible from Terminal D, take train S13 to Köln. At Köln-Deutz, exit at the rear of the platform and use the connection tunnel to streetcar line 9, direction Sülz. Exit at station Universität. One ticket (zone 1b, destination code 2000) is valid throughout.

From Cologne main railway station:
Take any streetcar line to Neumarkt and change to line 8 or 9, direction Sülz. Exit at station Universität. Alternatively, take a regional train to Köln Süd.

From Köln Süd railway station:
Exit the platform on the south side. From the station exit, go straight ahead, using Otto-Fischer-Strasse for 200m and crossing a park for another 200m.


Hotels:

A block of rooms has been reserved at Hotel Leonet. For reservation please contact
Mrs. Heike Sahm until 1 December 2007; email: hs@thp.uni-koeln.de
Hotel Leonet, Rubensstrasse 33, 50676 Köln; phone +49 [0] 221 - 2730 00; email: info@leonet-koeln.de
From streetcar line 8 or 9, exit at Zülpicher Platz.

Hotel Weber, Jahnstrasse 22, 50676 Köln; phone +49 [0] 221 - 2722 9950; email: rezeption@hotelweber.de
From streetcar line 8 or 9, exit at Zülpicher Platz.

Institute neighborhood map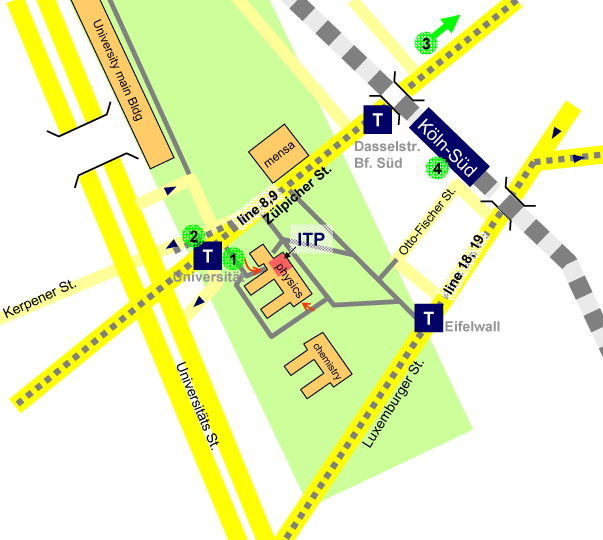 Hotel area map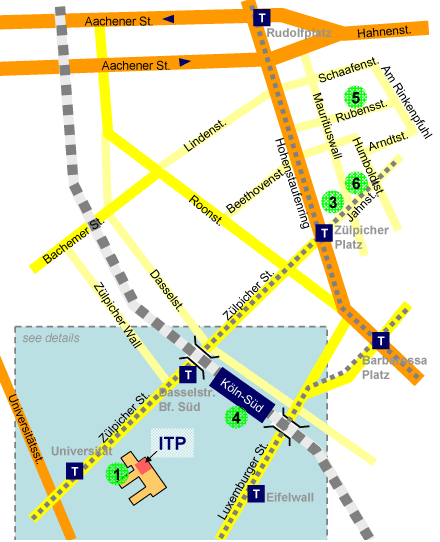 Markers on the maps:
Institute entrance
Streetcar station Universität
Streetcar station Zülpicher Platz
Railway station Köln Süd
Hotel Leonet
Hotel Weber